ActivPowerIRX:
IRx Zeus
Complete Muscle, Joint & Immunity Supplement
$60.00 — available on subscription from every 4 weeks
The revolutionary Zeus from ActivPowerIRX is the premier natural joint health supplement for providing relief from the ravages of life and aging. Our patented formula blends 16 all-natural ingredients that are rich in nutrients, vitamins and minerals with proven abilities to improve mobility, restore energy and boost immunity. The first supplement of its kind, IRx Zeus is formulated to awaken the genetic pathways that deteriorate with age and help regenerate the body's natural ability to heal, recover and rebound from injury and the effects of time.
100% Natural
16 proven herbal and marine compounds
Promotes joint health and mobility
Users report dramatic reduction in pain and effects of inflammation*
Boosts energy and immunity
*Individul results may vary.
Benefits

100% Natural

Muscle & Joint Relief

Restores Mobility

Promotes Healing

Immunity & Energy
Youth is Overrated
As we age, the genetic pathways responsible for regeneration and healing slowly deteriorate, increasing the effects of injury and illness and reducing vitality. The 16 potent ingredients in IRx Zeus help restore these pathways and rejuvenate the body's natural healing powers, resulting in dramatic increases in mobility, energy and power in just days.
Frequently Asked Questions
IRx Zeus is a potent, all-natural immune booster, joint and muscle mobility and wellness supplement.
Zeus contains a patented combination of 16 natural ingredients from land and sea.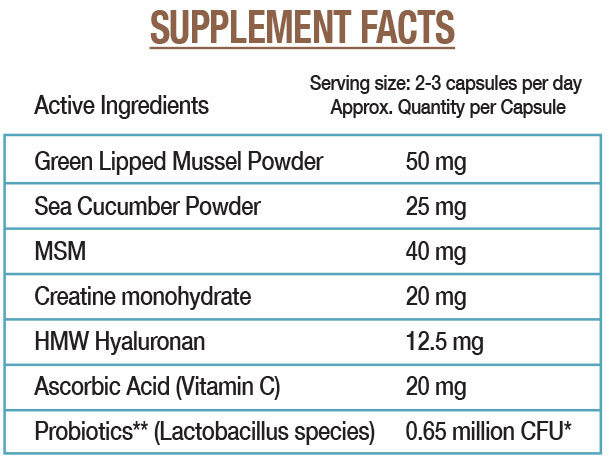 Inactive Ingredients (Proprietary Herbal Blend): Boswella Serrata, Devil's Claw Root, Turmeric, Piper Nigrum, Calcinated Circumin, Cinnamon, Diatomaceous Earth, Calcium Dolomite, Molasses Powder.
Recommend dosage for adults is 2-3 capsules per day.
Results vary, but many individuals taking IRx Zeus have reported a notable improvement in mobility, energy and overall vitality within as little as 5-7 days.
IRx Zeus is intended for individuals 16 years or older. You should also consult your physician before using Zeus if you are pregnant, breastfeeding, taking anticoagulant medications (blood thinners) or have a medical condition that puts you at risk of increased bleeding.
Related Products
Actoband

Patented Dog Resistance Strength Training System

Guaranteed to safely improve strength and stamina in just 15 minutes per day without dangerous stress on back, hips and joints.

View Product

Atlas

5-in-1 Canine Joint and Wellness Supplement

A patented formula combining 16 marine and herbal compounds proven to improve mobility, restore energy and boost immunity.

View Product

Actorub

Powerful Topical Muscle Formula for Dogs

A patented liniment that penetrates deep to provide fast, long-lasting muscle relaxation and promote recovery.

View Product